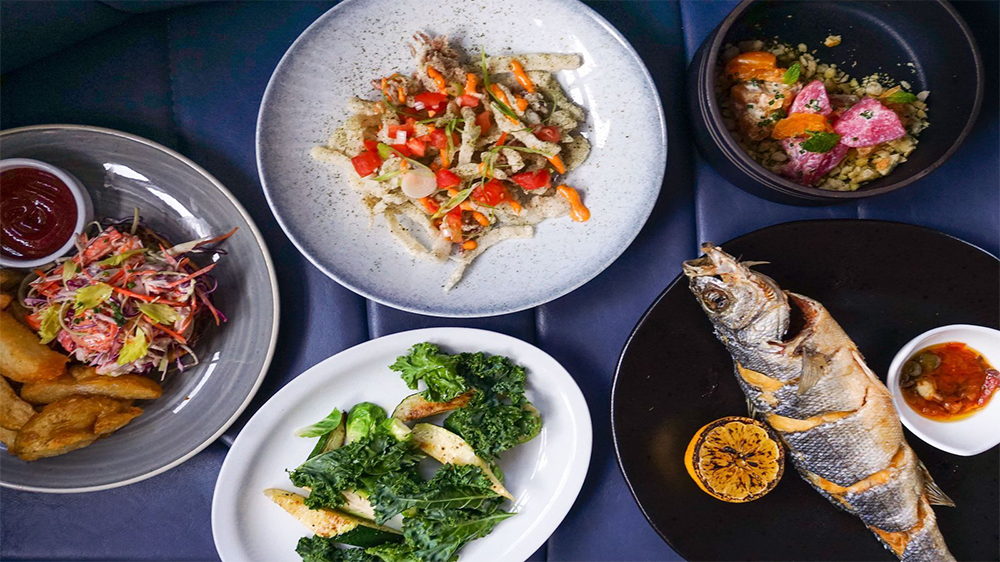 Tofino is a small but very
popular town located on Vancouver Island
. This town has been blessed by almighty for its immense natural greenery. Adding to its glory is its surf culture and tempting seafood.
Are you are a seafood connoisseur who has not been to Tofino? No matter whichever seafood delicacies you might have tasted anywhere in the world, but I can guarantee that you are quite far from tasting the best.
Yes, I mean it! Glance through some of the finest restaurants in Tofino that we talk about in this article. They are known for serving the most mouth-watering seafood dishes.
Wolf in the Fog
Dedicated to always serve its customers with fresh food accompanied by a glass of wine, beer, or a cocktail. As per Air Canada's EnRoute Magazine, this place has grabbed its position in Canada's Best New Restaurants. The restaurant has gained too much popularity within a very short span of its opening. The building is divided into two floors. The restaurant opens at 10 in the morning and stays open till late in the night serving three meal modules namely breakfast/brunch, happy hours, and dinner. If you decide to visit this place, a little waiting time is what you might have to bear but that is worth the delicious and finger-licking food. Book a table for yourself if you don't want to go through the waiting process. Wolf in the Fog bases its interests on Tofino's neighboring land and sea. You will find that the menu here changes with the season. So you can always get back after a couple of weeks only to indulge in something new and exciting.[/vc_column_text]
Wildside Grill
If you are looking forward to having mouth-watering American, seafood, fast food, and Canadian dishes made up of fresh and high-quality ingredients and that too at a reasonable price, Wildside Grill is the best place to opt for. Many of the customers recommend having Fried Oyster Burger, Fish 'n' chips and chowder as these are some of the most popular items served here. The place offers Brunch, Lunch, Dinner, and even after-hours. Does seafood heaven exist? Well, if it does, it ought to be this place.
Kuma Tofino
The word 'Kuma' means bear in Japanese. This place offers a Japanese texture to its food and is ranked number 1 among all the Japanese restaurants in Tofino. Although they predominantly offer a Japanese based cuisine, this restaurant does not lag in following the culture of Tofino. They serve everything prepared from fresh and local seasonal elements. Special options such as vegan, gluten-free and vegetarian dishes are also available here. You may also opt for a happy hour deal. It is as good as the main meal course. The restaurant offers a very cozy environment and can seat up to 28 people. If you are looking for a place far from the madding crowd while you devour some fresh quality seafood, Kuma is the best. The restaurant works from 4 in the evening till late in the night from Wednesday to Sunday.
The Pointe Restaurant at the Wickaninnish Inn
Offering several options ranging from breakfast, brunch, lunch, dinner, and after hours, the Pointe Restaurant serves delightful and appetizing seafood and Canadian cuisines to its customers. The amazing 240-degree view of the Pacific Ocean, neighboring islands, and wildlife provided by the restaurant's sitting arrangement are soothing to the eyes and a delight to the heart. The menu is seasonal and changes quite often. People highly recommend trying Executive Chef Warren Barr's weekly taste menu. Scotch Whiskies, custom cocktails, and amazing wines which are recognized by the Wine Spectator Magazine are served along with these gorgeous dishes on the menu. The restaurant remains open for all seven days of the week and serves its customers from 8 in the morning till 10 in the night.
Shelter Restaurant
Shelter Restaurant is famous for its fresh seafood and steak. You may find a garden behind the restaurant which is owned by the restaurant. You guessed it right.
All fresh herbs grown here are used by the restaurant, as well. The place has an aura of its own.
Their menu has a varied range of cuisine comprising of local food, brewpub, and Canadian seafood as well as an amazing combination of flavors complementing each other. Amazing! All the ingredients are very fresh and taken from the local farms. The most popular dishes from the frequent visitor here are the beach oyster recipe, salmon risotto, and red Thai coconut curry. The beef and pork served here are hormone-free and grass-fed. Also, the rates are very nominal and the service is fantastic. The restaurant is open for seven days a week, from 11 in the morning till midnight.
Sobo Restaurant
Located on Neill Street in Tofino, SoBo Restaurant stands for Sophisticated Bohemian and you can find here everything – from local cuisine, Canadian seafood to international dishes. Their long menu comprises of wraps, pizzas, tacos, fresh oysters, soups, pasta, and salads, and while you have read through half their menu, you should have already made up your mind. It follows the tradition of Tofino to serve everything made from ingredients. Combined, polenta fries, salmon chowder are some of the most popular dishes served here. It is possible to make reservations here and there are options available for vegetarians and vegans.
Big Daddy's Fish Fry
This restaurant is located on Campbell Street. It offers all local cuisine, seafood, fast food, and Canadian cuisines. Whether we talk about their food quality and taste, the service provided here or the ambiance, the restaurant stands out in everything. The outside sitting area provides a very cozy feeling. The people who have been there recommended trying cod and chips, fish, burger, and chowder. Whether you are looking forward to a family lunch, dinner date, or after-hours gossip with friends, this place will surprise you every time. If you love eating soft ice-cream then this is the only place in entire Tofino that serves around 25 flavors of ice-cream. Don't miss the opportunity to try these ice creams if you visit Tofino.
The Fish Store and Oyster Bar
This is a store as well as a restaurant that offers its customers to take away fresh seafood to cook at home. You can also sit back and relax and have the yummiest seafood cooked by the chefs there. Also, if you are a vegan, don't shy away. This is the place for you as it specializes in this section as well.
The oysters are harvested very close to the restaurant and they arrive from nearby Lemmens Inlet Off to Meares Island. This place has been very popular for its Clayoquot climax oyster. The store is located on 368 Main Street in Tofino. Well, if you will be visiting this place for the first time, you might find it tucked away, but it would not be difficult to find. The store stays open from Tuesday to Saturday and the timing is from 12 noon till 10 at night.
1909 Kitchen
You might be wondering what does this 1909 specifies? Well, this is the year when Tofino district came into existence and thus, the restaurant has its name. The 1909 Kitchen has been breathing more life into the ancient industrial community of the small district. When we talk about the decor of the restaurant, there is a presence of design elements made up of metal and a revealed beam. The sitting arrangement is made in a manner that the diners can observe the tethering of fishing boats as well as the hard work put up by the fisherman to put all the collected stock on the adjacent boatyard and the escalation of the eagles overhead. The restaurant serves a delicious menu comprising of dishes from Mexico and Japan. The menu is season based and thus, all the fresh ingredients such as asparagus, gooseneck barnacles, sea chives, chanterelles and fragrant herbs from Tofino Botanical Gardens are used here. The restaurant remains open for all seven days from 8 in the morning to noon and for evenings; the time is 5 to 10 at night.
Sea Monster Noodle Bar
If you are craving for noodles and rice items, then this is the best place for you. Having a small but extraordinary compilation of newly made and amazingly seasoned rice and noodles, the restaurant has gained too much popularity and it has also bagged the best new business year award from the local chamber of commerce.
Its special and must-taste dishes are Dan Dan, Drunken Noodle, salmon, albacore tuna pokes, and fish curry. The bar stays open for all seven days a week, from 11:30 in the morning to 6:30 in the evening.
Well, the list of the best seafood restaurants in Tofino is still not ending. Such is the popularity of Tofino as a land of finger-licking seafood. There are many more restaurants that are equally good as the ones mentioned above.
Picnic Charcuterie
This restaurant has its name influenced by the French language. 'Picnic dates' come from 'pique-nique' which means eating casual dinner with the family in the open air while 'charcuterie' means a place where vegetables, fruits, and meat are preserved. The architecture of this restaurant beholds the local culture and the way of working is based on all traditional techniques. The restaurant serves high-quality meats and makes sure to make minimum use of preservatives. Sandwiches, pickled veggies, cheese, sausages, and of course meat is what people go crazy for, here.
Tofitian Cafe
The best cafe in Tofino for having coffee is Tofitian. Started in 2020, this place has been nominated several times to be one of the best cafes offering its customers the finest and brightest start to their day. They make use of supreme quality matcha, elegant loose leaf teas that are imported from all around the world, fresh lemons, and charming chocolate frothy. Muffins, scones, breakfast sandwiches, sausage rolls, cakes, and cookies are the regular running appetizing items. They also have a commodity shelf that is loaded with patches, shirts, mugs, stickers, hats and many such items. The next time you are here in Tofitian, you can pick from here, one of the best gifts of Tofino. The place remains open for seven days a week and timings are from 7 in the morning to 3 in the noon.
The Great Room at Long Beach Lodge Resort
This place promises to provide you the most beautiful and magnificent views of ocean waves from the wild and stunning west coast that is uncommon to Vancouver Island.
Adding to the beauty of this view is the splendid furnishing that comprises of fireplace and wood accents that compliments the view outside. Also, they have paid complete attention to the minute details of a customer's preferences while making sitting arrangements to provide a very cozy and homely feeling to all.
You have a choice to either read a book with comfort sitting on the window or in front of the massive fireplace or can also enjoy viewing the surfers in the pounding waves of Cox Bay. This place is open for all seven days and works from 7:30 in the morning to 10 in the night. They make sure to serve only fresh seafood and good care is taken by the chefs while choosing ingredients as they visit the area farms, themselves, for choosing all herbs, veggies, and mushrooms.
The Schooner Restaurant
The Schooner Restaurant has been serving its customers since 1949. It offers a variety of all fresh seafood, contemporary and Canadian cuisine.  All the seafood starters, cool salads, salmon, chowder, fish and chips, steaks are some of the popular dishes served here. The restaurant remains open from 5 t0 9 in the evening and for all days of the week except Monday.
The list can still go on and on but these are some of the incredible and fascinating restaurants offering pure, fresh, and delicious seafood that will be too hard to forget once you have tasted. It's like an incredible chance to be at this amazing place and devour on the amazing food served all across the place!
So the next time you are here in Tofino, let us know which restaurant you visited and what were those dishes that left you smacking your lips.