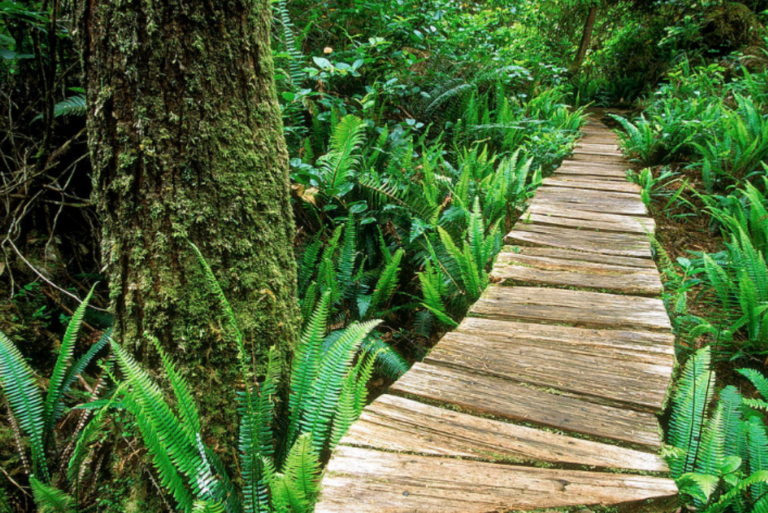 Tofino is a special place, it seems that its nature favorite piece of land and a gift for those who want some pure dose of nature. Let me explain to you its location a bit, it's the western side of Vancouver. You can witness nature here in its true colors, top-rated hiking trails passing by lush green rain forests, deep blue sea, stunning open sky, and shinning golden sands.
While exploring this place the most amazing fact is you can dive deep into any aspect of nature you want. But definitely, if we are talking about the specialty the beaches and hiking trails attract most of the visitors. These hike trails of Tofino are extraordinary as they offer you a walkthrough beautiful rainforest and a traveling experience by the seaside.
Pacific Rim National Park owns many such hikes those are enough for you to fall in love with this nature's delight. Few of them are also located near the Ucluelet towards the south. The good thing is that you can access most of the heads of these trails by car, making your start easy and energetic.
These hiking trails are truly breathtaking and located within and around Tofino. This place is nature's masterpiece it is like a crown to nature, beautifully studded with all its traits. Let's discover some of nature's most precious gifts and extraordinary scenery with these 10 Top-Rated Hiking Trails In Tofino.
10 Top-Rated Hiking Trails At Tofino
In this article, you will come across the most challenging Tofino trails that will make your heart go zoom zoom with fun and adventure. The list presented here is shared from lowest to the highest-ranking according to my personal choice. This hierarchy can definitely alter as per your personal choice and preferences.lets start our journey with:
NO 1: Schooner Trail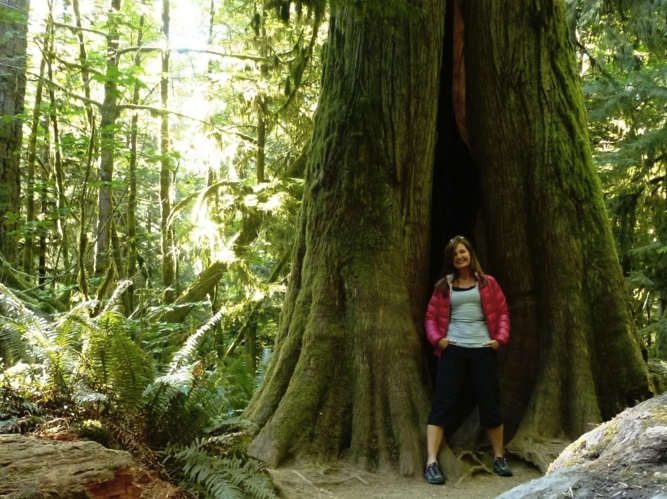 If you have a limited time tour to the see Tofino, believe me, this trial is worth your visit. Let's check its location, located in Pacific Rim National Park Reserve.
let's cut the things short and move towards the main highlights which you will never like to miss in any hicking trial and you will never get in any other hicking trial.
Highlight
If you are a nature lover and old trees not only mesmerize you but attract you as well. This hiking trail is definitely worth your visit.

And what if you get to see a beautiful incredible seaside along your hike, definitely you will love it. So are you waiting for!

This trail is full of adventures you will come across deep dense rainforest highly populated with old ancient trees. if you want to walk through a real-life fairy tale forest come hike here.

Once you have crossed the dense rainforest some Golden Sandy beaches are waiting for you to find ever happy ending for your fairytale visit. In this majestic kind of rainforest, you can shoot some truly beautiful and interesting clicks.

No other hike can offer you all the adventure and all the sensations which you can get from this hiking trail. You will experience a high-level view of deep-sea from the rainforest. Moreover, while walking on the beachside it will be a different level and the ultimate sea charm.
The beachside is a good place to rest and play. To surf on low tides is easy as the wind here is very supportive for the surfers. So adventure and play with waves both enjoyments are available in a single hiking trail.
NO 2: Old Big Tree Trail (Rainforest Trail)
This trail is known as the rainforest trail as well. If you want to hike away from the noise of waves and sea this is the best option for you. While you are in Tofino and you want to be a bit away from the seaside. Ultimately you need to opt this rainforest trail fun journey
Let's grab a few of the highlights of this big tree trail.
Highlight
If you want some peace of mind and an adventurous hike side by side you will love this hiking trail.

This Tofino hike is more or less like nature's museum displayed with some ancient and beautiful trees. Those are narrating the old tales prior to the European period and Columbus ever discovered the place. Truly make it worth your visit!
These trees truly own this place you feel your self in an alien environment to witness nature's love and loyalty. You will come across some giant trees which have fallen down but still serving as a nutrient for the whole place. It seems that these trees are captured in the spell and will stay here for no less than 1500 years if left to decay. You better say will nourish the vegetation in the surrounding, gone for long but still serving the premises like real guardians.

If you had enough of the sea music this hiking trail will provide you the beautiful lure of hummingbirds. And some thrilling adventurous screeching of wild eagles flying by. This is a completely different type of experience while moving forward in this hiking trail you get a chance to know yourself. Because I don't think anywhere else in this world has such natural peace and purity. The existence of trees that surround you don't let you feel alone but still tell you to be silent and know yourself.

The park is designed beautifully and wisely two different rails loop A and loop B both these loops or tracks start, at the same parking. While walking down the rain forest you are supported by some wooden stairs which lead you to the deep down forest. These stairs not only make your hiking trail easy to walk and difficult to forget. Once you visit the place you cant break the spell.

On loop B you came across a big old friend (old tree) serving here as a bridge to facilitate your journey. Don't worry that it will be tough to walk the authorities have added some support on both sides to make your hiking easy and safe. But remember it's still an adventure so never underestimate it.
NO 3: Wild Pacific Hiking Trail (South beach trail Tofino)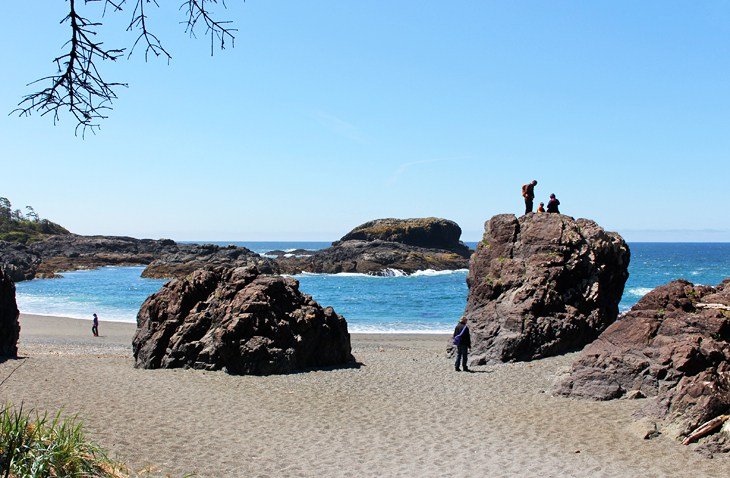 To explore this hiking trail you need to move towards the south of Tofino not far away but a distance of 40 kilometers. This wild pacific trail has its own charm and adventures. But as I told earlier I will not narrate long stories but will share a few mesmerizing views which are still hung in my memories. Let's get check the place in few highlights until you have some time for the real visit.
Highlights
If you are at Tofino and you are making your list of the places worth visiting here. Add this hicking trail for its versatile geography. As it has some amazing features those are different from other hiking trails in any coastal region. 

Here you will get an amazing view of offshore islands from some majestic rocks that seem to be installed to narrate a glorious story. These rocky points seem like brave warriors standing high against the sea and its high tides.

Again here you will get two hiking options you can choose one according to your will. Loop A is a lighthouse trail option mostly people love this  2.6-kilometer hike trail that brings along the glory of some high view rocks and ends at the lighthouse.

If you want to have a hiking adventure accompanied by some peaceful moments with sea and cedar trees here is your destination. On this trail, you can enjoy some memorable moments while sitting by the seaside enjoying the beautiful landscape as well. 

You will love the tree line that seems to be beautifully drawn like a boundary around the trail.no doubt mother nature is truly an artist!

This is truly a motivation l place as you will get a determination and inspiration from the rocks. As those rocks are standing straight for long at their place with the same glory. While several waves came to them and surrendered before their will and determination.
The other option of Wild Pacific Trail is a bit longer as its a hike of almost 8 kilometers as its a trail which covers both Rocky Bluff along with Brown's Beach. With this track option, you have a trip through the rainforest along the coastline.
NO 4: Ucluelet's Ancient Cedar Trial
If you have already decided to visit the mesmerizing wild pacific hiking trail I suggest must add this small one-kilometer hiking trip on your list. That might not have lots to explore but have lots to make your trip memorable.
Highlights
When you are at Peninsula Road you just need to be a bit out of the loop to discover this majestic and miraculous place. That is studded with ancient cedars trees, those own their glory since no less than 800 years.

I am an emotional kind of person so I believe these huge trees of the almost twelve-meter circumference are the true ancestors of the place. Standing by there side truly makes you feel like a time traveler who has just come back to the feel the peace and charm.

Access to this hiking trail is very easy as from the parking lot you just need to follow the sign and you are here to greet the oldest natives of this place. Here you will find some Western Hemlocks, Sitka Spruce along with Red Cedar, those had been a part of this ancient civilization.
NO 5: Nuu-Chah-Nulth-Trail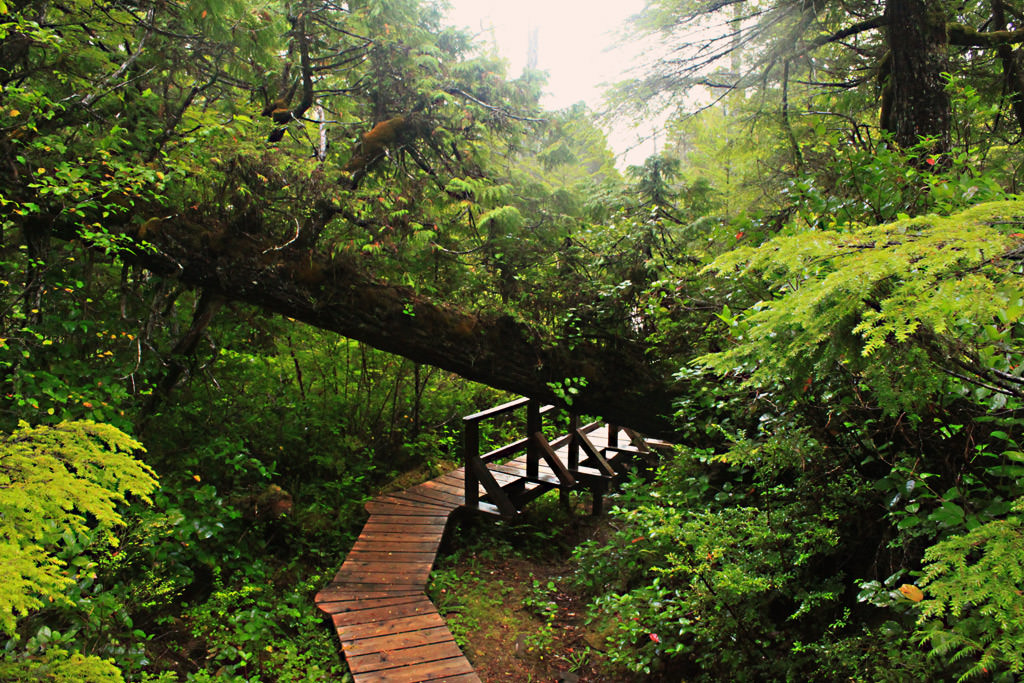 In Tofino, there are so many beaches and hikes with each better than others, that you keep enjoying and discovering all the colors and moods of the seaside. But here in this hike, there is an extra touch that makes this hike more interesting and inviting to visit. Here you get a chance to study the interesting and fascinating civilization of Nuu-Chah-Nulth that are still the inhabitants.
Let's check a few highlights that make it not worth missing place!
HighLights
Nuu-Chah-Nulth-Trail is an ancient civilization that is truly interesting to study. As the implementation of natural elements in their traditions is actually specular and investigating. Moreover, you get a chance to study it deep within this truly amazing Tofino hiking trail.

Kiwisitis Visitor Center is another interesting attraction within the midway from Wickanninish beach to Florencia bay. Relax in the midway and get fresh for the remaining journey.

In this hike, you will encounter with tall trees along with some rocky trail. And to prolong your trip you can take a walk along the beachside that will make this hike a bit more fun.

So in this hike, you actually get to see not one but actually two beautiful seasides.
NO 6: Long Beach Trail (Pacific rim trail Tofino)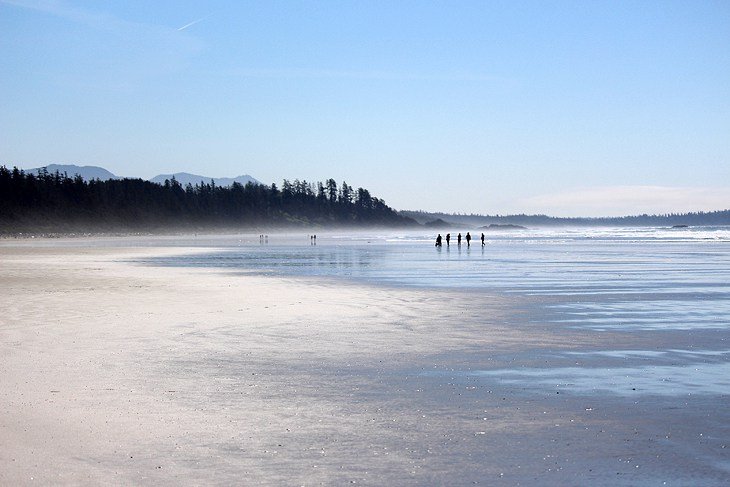 Located at the Pacific Rim Park. This trail is in the central region. A luxurious beach is full of natural scenes. You don't need to follow any direction every direction is your direction. Just take a step in any direction and start your walk. Don't think of the direction. Every direction is full of surprises for you.
Highlights
The 16 kg long hike track. Self-exploratory and self-explanatory every step reveals a new beauty aspect to you. If you are attaining Tofino hikes with kids this trail is surely a good choice.

This is a combination of many areas. The main area is the long beach. Although there are many ways to reach the long beach the most popular one is the passage from the parking. 

Many sites seeking activities are there but the most important one is the massive Incinerator Rock.

Careful this is a mesmerizing track. This track will mesmerize you fully. You will walk on the track and forget the way back. Suddenly this can happen that you may be lost your way back.

Don't forget to pack your lunch. You will certainly need it during your walk. Be sure there is someone who can pick you along the way. Otherwise, this will be difficult for you to come back due to the distance you have covered. 
NO 7: Meares Island Trail – (Big Tree Trail)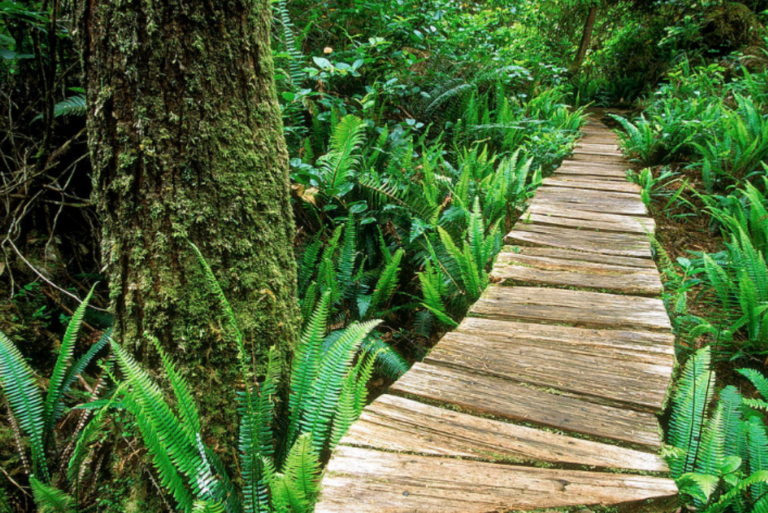 If you are an adventure-seeking guy then this trail is for you to walk on. A friend of yours is waiting for you on this site. This friend has a long long story to tell you. This story is about the past 1000 years. The story is interesting. As your this friend has witnessed every moment of time during these 1000 years. He is the eye witness of all those moments. You may think about how it is possible how a living being is able to witness 1000 years. 
Then be ready to witness the probably the oldest tree on this planet earth. This is a 1000-year-old tree. The biggest treasure of this track.
Highlights
This trail has the circumference is over 18 meters and is 2000 years old approximately. So explore the hidden treasure for 2000 years while walking on it

You have two options to follow on this track. Or in other words, the loop can be completed either with a distance of 2.4 Km and 4.2 Km

Although the track is not very smooth at some places you may need to climb a little. The total effort level that is required here is of the moderate level.

You can easily hire a water taxi from the Tofino. In approximately ten minutes this taxi will group you at your desired destination That is Meares Island.
NO 8: Plane Crash Site - The Canso
Some mishaps bring opportunities. This was a sad incident that happened in 1945.  An airplane started his journey from the airport in the Tofino. The plane never reached its destination and the plane fell down. That unfortunate plain is still placed on this track. This track is named after this crashed plane.  
Highlights
The track is full of mud. This is a mud adventure. This muddy track will full fill your childhood dream to pass through the mud. At a certain location, you may find lots of mud. If you are visiting the site in the rainy season the Mud can be a trouble for you.

Be sure to equip yourself with the proper equipment. To pass this area otherwise you can be in a difficult situation. 

This is not an advertised area. The trail is hidden in the forest. The direct approach to the track is not mentioned. What you need to do is to park your car at the Radar Hill. you will find the parking area here. Try to choose the lower parking area. Now you need to walk back to the highway. Take the south side and start to count the pools. The 15th pool is the indication of this secret wonderland 

Nearly everything in this site is associated with the crashed plane. You will find two poles there. Although these pools added in the beauty of the site these pools are not here naturally. These are associate with the crashed plane. 

Rescue teams decided to move away from the plane from the site. They tried but in vain. They couldn't do it. So they made a blast in the hope that the plain will be turned into small pieces. Something otherwise happens and this blast created these two pools.
NO 9: Bog Trail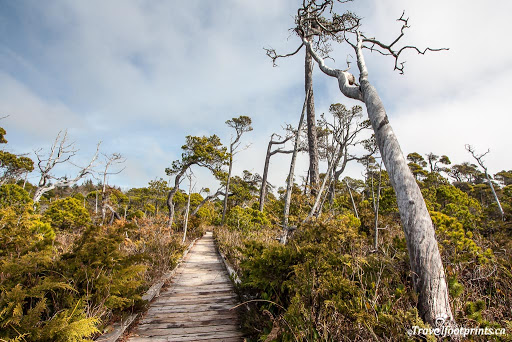 This trail is another flavor for you, if you are tired of some long and adventurous hiking trails, and want a walk with your little one. So let's explore Tofino with kids at this Tofino Hiking track for kids. Let's check what makes it so easy and interesting to hike.
HighLights
This Bog Trail is often known as Shorepine Bog Trail as well. This interesting hiking trail is comparatively short, even not a complete kilometer.

This hiking trail is your trip to a miniature jungle, where the whole Tofino is decorated with tall trees and beautiful Golden beaches. This hiking trail has something different thing to offer it has a calm and steady walk in the little jungle.

This area of Pacific Rim Park is different from the other park, which is rich in vegetation. Its acidic soil makes it limited in vegetation as the soil is a challenge for vegetation growth.

Here you will find an abundance of shorepines, which are small in size but might be centuries old. Yes few of them are even 400 years old.

Sphagnum moss is the main vegetation as this breed has higher Ph levels so survived the acidic soil of this place for centuries.

If you are lucky enough you might get this hike when the blooming flowers have fully captured the space. Yes but it depends upon the time of year you are here. 

So do visit this different shade of Tofino hikes with your kids you can even drive a stroller across this hiking trail.
NO 10: Half Moon and Willowbrae Trail
This trail has a different mood and charm, the lovely aspect of Tofino is that its full of opportunities. So you can choose one according to your mood and shade. This trail is located at the Southern side or you can say the extreme tip of the south side of Pacific Rim Park. Willowbrea is the access point for both the Florencia Bay and Half Moon Bay, but for Half-moon Bay You Have to add up almost half a kilometer in your trip.
HighLights
If you want a bit of privacy and wilderness you definitely need to visit the place, this place is definitely not the visitors most favorite or visited the place. So this fact made it one of my favorite hiking trails at Tofino and maybe makes it yours too.

Some stairs are installed here to lead you down to the seaside. and the same stairs can lead you to the half moon bay you just need to grab a trail going to the south.

This place is definitely a place worth visit, yes this turn to half moon bay will increase your hiking trail. But while you will be moving down on the stairs to this bay, You will witness some extremely beautiful views. So when you are hiking Willowbrea trail never forget to add the spur of Half Moon Bay into it, it's definitely worth that…