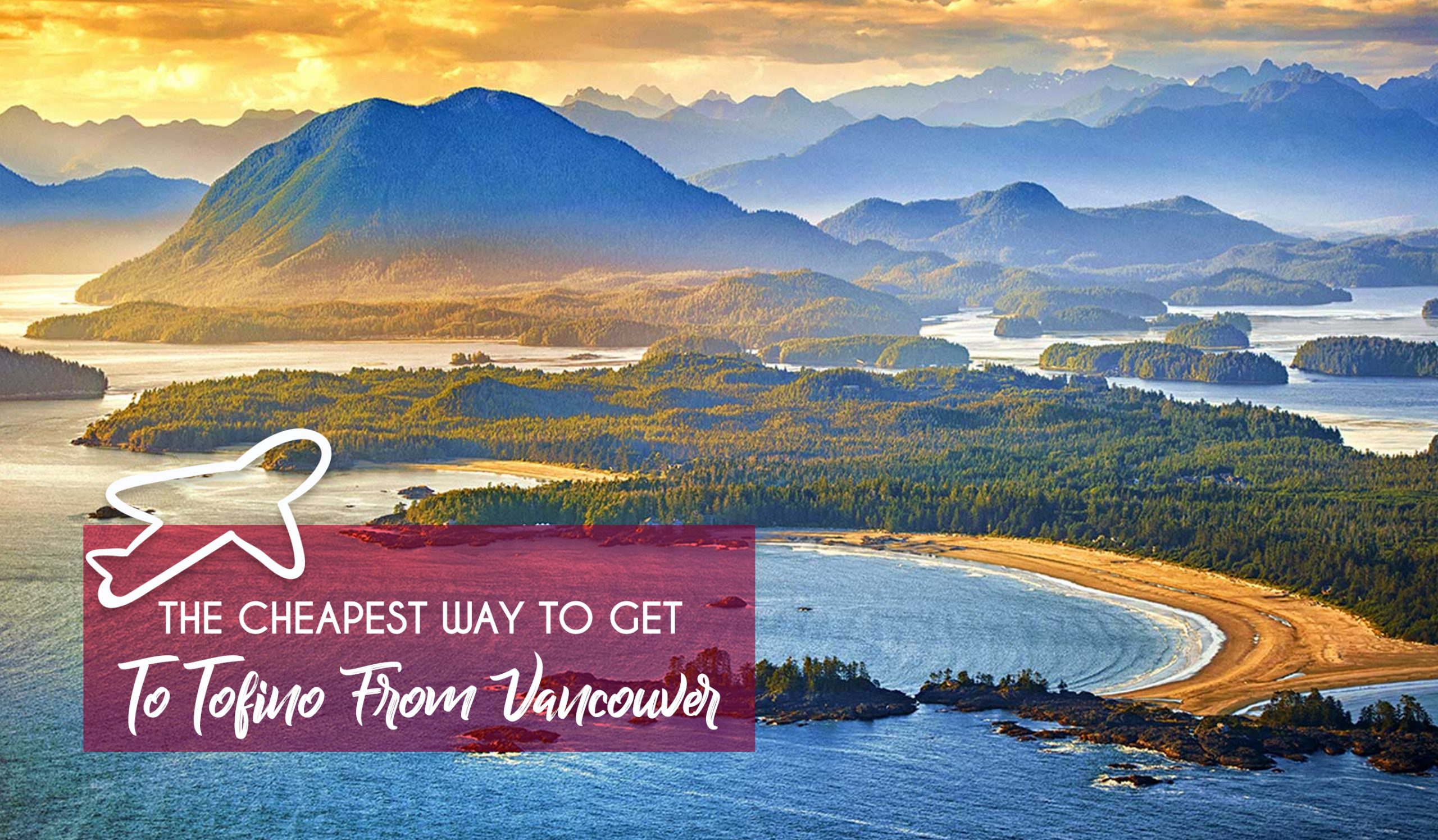 Once you have decided to explore Tofino you are undoubtedly aware of the excitement within the premises. But here we will like to share a bit more details to motivate you to travel from Vancouver to Tofino and enjoy the entertainment and fun Tofino has to offer. 
There are different routes and means of transportation that you can follow but here we will try to sort things according to your budget and affordability and time limits.
But before we present you all the possible ways to start your journey to Tofino from Vancouver I would like to share a few highlights and history of the place so you don't miss any of the fun.
So let's start with what is Tofino and where it is situated? 
Tofino is a beautiful small village that lies at the western edge of Vancouver Island. This island owns all that nature has to offer. From beautiful sparkling water to lush green rainforest it has it all, apart from nature if you are a true appreciator of ancient art and culture you will get a lot to explore.
This island is famous for all the positive energy that truly boosts you to cope with the stress and negativity of today's modern world. So to get it all, you need to invest some time and money and feel the blissful experience that you can keep in your heart as a source of inspiration for the rest of your life.
The Fastest Way To Reach Tofino
So let's figure out our first option to reach the place. When I first came to know about the place, and the excitement it offers, I actually wanted to fly to that place as soon as possible.
So you can take the flight option, if not budget but time is your concern. You can fly directly from Vancouver to Tofino Long Beach Airport (YAZ) . There are several flights scheduled on a daily basis with the Pacific Coastal Airlines or you even try Harbor Air that can lead you to Tofino harbor.
For those who have more money to invest in this trip, they can even charter the luxury of a seaplane or a helicopter that can fly to their destination in the shortest time span. 
If you are from a different state and place, and you are choosing a  flight and drive option, that is quite economical and still one of the fastest routes. You have two airport options in Vancouver. Comox and Nanaimo, once you reach Vancouver island you can even take a drive of almost 3-31/2 hours to get to Tofino. Vehicle companies are good at service while you need it directly from the airport. Moreover, if you want to fly further the flying options are still on but definitely will shake your budget for a while.
Once you have reached Vancouver now you have multiple options to attain your desired destination i.e Tofino.
How to reach Tofino from Vancouver by Bus
There are many bus companies that provide a good reliable and comfortable trip to Tofino at almost very convenient prices. The best thing about these bus services is that they cover almost all the major entry and exit points.
So your journey gets peaceful and more joyful. As travel no longer remains your utmost concern you can visit any point you wish to, and start or conclude your journey from wherever you like. either Victoria, Parksville, Nanaimo, Ucluelet or even Tofino HighWay.
So the bus traveling Via Vancouver towards Tofino is no less smooth than your personal convenience. Moreover, there are various bus services that provide an online booking facility as well. So plan your trip and say hi to the new dimension of positivity, excitement, and pleasure!
Another Option To Reach Tofino By Road
If you have decided to make this trip to tofino more memorable by travelling by being on roads, keep in mind, whatever time of the year it is you need to check the roads.
As this place is full of activities and rich in profound culture many events keep taking place in different areas throughout the year. So you need to draft your route accordingly to avoid any uninvited stress and delay.
You can plan your road trip from British Columbia mainland to Vancouver Island-to Tofino in three best possible ways
Either you drive your own rented vehicle those are abundantly available in the area

Or as a group it's better if you a custom a shuttle service there are several like Pecefic Rim Navigators

Or you can get a reservation for a trip scheduled by a few bus service like Tofino Bus
| | |
| --- | --- |
| Approximate Travel Time To Tofino from: | hours |
| Vancouver | 6-7 hours incl ferry |
| Seattle | 9-10 hours incl ferry |
| Nanaimo | 2.5 – 3 hours |
| Port Alberni | 1.5 – 2 hours |
| Victoria | 4-5 hours |
Note: The true estimation can vary with road conditions and ferry timings 
How To Reach Tofino Through a Ferry Ride
As you definitely belong to different regions you do have to choose a route that suits you the best and transport you in the minimum time and maximum fun.
Ferry Rides From British Columbia
If you are driving to British Columbia you can opt for a few ferry trips in order to reach your destination. you have three options, 
If you are comfortable with Horseshoe Bay to the departure bay route you can reach Nanaimo's departure bay in no more than 2 hours.so enjoying a ferry ride toward your destination can be a wow start for your trip.
The other option will be from Tsawwassen Bay by taking this route you are supposed to reach at Duke Point Bay in 2.5 hours  and from here you are just 15 mins away from south of Nanaimo.
Moreover, this route is suitable to those from the USA or living closer to USA borders.
If you have selected the route from Tsawwassen terminal (that is south side of the city) you will hopefully reach the Swartz Bay terminal in no more than two hours and just 30 mins away from North of Victoria .
Ferry rides are another adventure within the way and if you are an ocean lover you shouldn't miss this exciting ride within the way to your blissful and soul satisfying destination that is Tofino.
But make sure to get early bookings for your ferries if you have chosen the luxury of going to tofino by ferry and drive. As these ferry trips are heartly desires of many like you
Ferry Rides Available From Washington to Tofino.
If Washington state is your easy access point you still have three options that can take you to tofino through a ferry ride.
The clipper ferry
This one is a recommended service between Seattle and Victoria, that will lead you to a beautiful journey to an awesome destination.This service is available throughout the year on a daily basis for passengers only no vehicle allowed.
The black ball ferry line
This one too is an awesome ferry service as you can travel alone or with your vehicle throughout the year from port Angeles to Victoria. Open for both passengers and vehicles.
Washington ferry service
This ferry service is not any time a year , but a seasonal one. You can't rely on it for the whole year but once it is working it is truly reliable as you can carry your vehicle along with you.
It moves from the San Juan Islands to Sydney that is just 30 minutes away from Victoria.
Tips To Travel In Winter
Another important thing you must consider while traveling that you are travelling in summers or winter. Because if you are travelling in winters you must check a few precautionary Sutton pass webcam service.
While you are travelling in winter from November to April 1st you need to make sure a few winter precautions as this sutton pass come between port alberni and is famous as a winter wonderland before you see the greenery and beauty of tofino.
Moreover by law you can't drive a vehicle without winter tires and chains on the roads as it can cause deadly accidents. This rule is applicable from 1st october to 31st march.
Note: BC Transportation Ministry is making some serious upgrades in highway 4 near Kennedy lake  to improve and enhance your travelling experience to Tofino. And this one is expected to be completed by this summer 2020.
FAQS
What are the most common reasons for delay while travelling?
If you are crossing a construction site you will get a possible delay of 30 mins as the lanes get single so the traffic flow is interrupted.

The policy of complete road closure is also followed on a few spots those are under construction those closures are mostly followed over night at 1am-4am, 5am-7am, and 10pm to midnight. You need to get the exact timing to save time.
What is the best time to start the journey?
You should plan your journey to an end before 9 pm that will save you from any inconvenience especially if Highway 4 is included in your traveling track.
Cell services are available or not ?
Your cell service will be interrupted from Port Alberni to Ucluelet junction. Most of  Highway 4 lacks cell phone service.
What about the washroom services are they frequent or not ?
When it comes to Highway 4 you will not find an abundance of washrooms they are only available at Taylor Arm and beside that at Kennedy River.
What is the exact location for the BC Ministry of Transportation project?
This project is being conducted along side of Kennedy Lake 14 Km north-east from Tofino 
What is the cheapest way to travel to Tofino as I found the bus a bit expensive?
The cheapest way to travel can be renting a car from Nanaimo and you can drop it in Victoria with a dropping fee. And if you want to go with the bus service that is Tofino bus by booking online you can get a good bargain instead buying the tickets in any other way.

Island link is another bus service that is 5$ cheaper than Tofino Bus.

Or you can catch a ferry from Horseshoe Bay by getting there through any public bus and from there you will land at Nanaimo and here onwards a rented car can pick you and you can get to Tofino.
Last Note
Tofino is no doubt a terrific place to visit and the travel is truly worth it. But to stay updated about the roads and their condition is truly encouraged, especially the driving space between port alberni and west coast.
Your information will save you from any unwanted stress you can obtain the most  accurate and recent information about your trip from  WWW2.gov