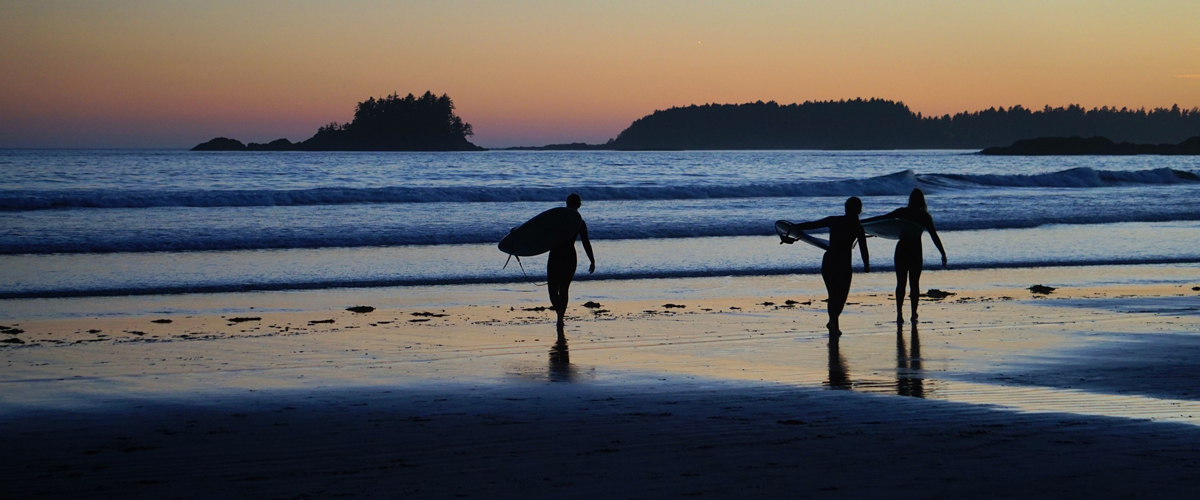 Tofino is a beautiful district located on the west coast of
Vancouver Island
. It is the ultimate destination for the tourists who come here to explore the beauty of the place.
The town offers many fun activities for foreigners like, for instance, they can play in the ocean, enjoy fine dining or they can simply sit back and relax at a seaside resort. What makes this location so special is that it is remote, which allows people to escape from city life and seek some peace of mind. This is a year-round destination. During the summer season, many tourists visit the town, especially families, to enjoy their time on the beach. However, in winter, people visit the place just to get away from the crowd and to take advantage of the empty hiking trails.
The best time to visit the town is between fall and spring. Some of the
best things to do in Tofino
include visiting the Pacific Rim National Park Reserve, which is home to a rainforest of ancient trees. You can also opt for boat trips or can go for Kayaking.
That's not all as there are tons of other fun activities to do in the district. This is why we have arranged a list for you which covers fifteen things that you must try when you visit Tofino. So, without further ado, let's begin!
1.   Head to the Pacific Rim National Park.
As mentioned earlier, the Pacific Rim National Park Reserve should definitely be on your list if you go to Tofino. It is without a doubt among one of the most amazing sites to visit in the area. The star attraction of the place is the sixteen-kilometer Long Beach, which can be accessed either from a parking area located on the edge of the beach or along with the hikes. This beautiful beach is quite spacious and flat, which makes it an ideal place for walking.
Moreover, on Long Beach, you can spot the incinerator rock, which is an iconic site. It is a large rock island which can be seen from some distance. The Tofino national park is also known for offering activities like hiking and surfing.
2.   Walk on Chesterman Beach Tofino.
Quite possibly, the most beautiful place to feel a sunset on Vancouver Island would be on this Tofino beach. Park and then walk the small track down the Chesterman beach where the cheery seashores will welcome you. It is among one of the most amazing places in town which will surely make you admire the beauty of nature.
3.   Trail on Schooner Cove.
Once you are north towards Tofino for 17km then watch for the Schooner Cove on your left. This trail is a pick in the area which consists of 2 and a half km of boardwalk. It is built through the rainforest, heading all the way down to Long Beach. Once at the beach, you will see the huge sandy sprawl of the 10km Long Beach, which its name is well deserved.
4.   Try Surfing.
If Tofino is famous for something, it is the long beaches and beautiful waves, which makes it a perfect destination for surfers from across the world.
The best part is that you can surf in town all around the year. Considering how ideal this place is for surfers, there is no surprise that people keep flocking to the beaches during the sunny days to do what they love doing the most!
There are a couple of famous beaches in town that are the favorite hotspot for surfers; Long Beach and Chesterman Beach Tofino. If you are a beginner, then you can take surfing lessons at many different beaches, and some beachfront resorts will even arrange individual lessons for you like the Pacific Sands Beach Resort.
5.  Visit Tofino in Winters and Wave Watch.
Needless to say, Tofino is even more beautiful in the winter season. If you really want to see the town in all its might then visit the place between the start of November and end of February. This is the time when you will be able to watch tremendous waves, which sometimes reach as high as six meters (20 feet), giving the spectators a mesmerizing view while also exhibiting the power of the ocean. These thunderous waves attract nature lovers as well as photographers while also allowing couples to enjoy a romantic getaway.
6. Kayaking Around Clayoquot Sound.
Located near Tofino is the body of water called Clayoquot Sound. You can explore this fantastic place through Kayaking and will also be allowed to paddle around the inlets and islands. While Kayaking, you can head to Meares Island, which is a trendy spot among the tourists.
It is an area where you can not only find the old forest but also hiking trails. Moreover, you can walk along the boardwalk of the Big Tree Trail. If you are new to Kayaking, then there is nothing to worry about as there are many outfitters who offer guided tours so that everyone can enjoy and appreciate the beauty of the place.
7.   Surfing In Cox Bay.
The best part about Tofino is that you can choose to surf all around the year. However, if you don't know how to surf then Cox Bay is among the most reliable sites to learn this art. In this bay, you will find cold and shallow waves. The gray, silvery waters will feel warm while you're in a surfing suit, and helpful teachers cheering will assist you as you learn how to surf.
8.   Go Hiking.
Tofino offers multiple hiking trials. If you have some time then visit the Long Beach. It is popular for its Western Red Cedar, Pacific Silver Fir trees and Western Hemlock.  The hiking tracks in the area which are associated with the national park includes the Nuu Chah Nulth Trail, Rainforest Trail, and Schooner Cove Trail. Another adventuresome choice is the Lone Cove trail. It's quick and offers a magnificent sight of the ocean.
9.   Take a Whale Watching Tour.
Visiting west coast to see the lifestyle of the whales and other sea characters could be worthwhile. The Gray whales come closer to the surface during the month of March and the early April. In these months you can witness the glimpse of humpback whales.Visiting on a right time will give you right eyes out of these whales as these were short, back in the summers in 2014 and 2015.
Watching Bear presence is one more chance and you can view the creature from pontoon or ashore. The Thorton Creek incubation facility near Ucluelet is an exceptional spot to see bears during September. A several of the whale watching vessels in Ucluelet and Tofino will do this job too.
If you want to get out on the sea and enjoy some nature's best sightseeing, a whale-watching tour is an absolute necessity. In the waters around Tofino, you can find whales easily including orcas and humpbacks.
10. Climb through Old-Growth Forest to Beaches and    
  Coves.
The climbing trails in Tofino and Ucluelet are pretty short. The Forests here include probably the ancient reported trees in the whole of Canada including hundreds of years old Douglas fir, Sitka tidy, and western red cedar line. Also, unlike many areas of Canada that are under snow around the year, the climbing trails are open all year in Tofino and are in reality, quieter in the winter months when the tourist season has finished.
11. Visit Hot Springs Cove.
Hot Springs Cove is another favorite destination of the tourists. The area features seven magical, natural cliff pools of fresh water. To reach there, it can take half an hour if you choose to travel by yacht. You can visit the place and have a great time with your family and loved ones.
To have an amazing experience, pay your visit to this amazing place at low tide. During the stormy weather, lower pools can be flooded by the waves, uprooting the alleviating high temp water with something similar to a cold shower! In peak months, the place becomes crowded with tourists which is why it is best to plan your visit in fall or spring.
This rural and all-year trip is among one of the most recommended activities in Tofino. It also allows you to compensate yourself following a bustling end of the week. Many tour advisors of the district run a type of service to Hotsprings Cove. However, ensure to have your bookings made with an organization that has legitimate park use licenses.
12. Take a Bear Watching Tour.
One of Canada's most celebrated creatures, mountain bears, are inexhaustible around Tofino. They can frequently be spotted meandering along the shores at low tide searching for fishes. Bear watching tours offer tourists an opportunity to see these great creatures in the wild from a distance. Tours are done from a boat and give a safe way to see bears in their natural places.
13. Visit Wildlife.
Tofino is about nature. Visitors from everywhere throughout the world, particularly Vancouver and Washington state, group to Vancouver Island, just as the Gulf Islands, so as to encounter the wild and natural life. You're ensured to see something; bear, wolf, ocean otter, a lot of hawks, whales, etc. The issue is, you must be available there every time to witness the indications of these wild creatures and a pretty snappy to capture these great moments. Turn away for one minute and you may pass up a major opportunity. Wolves have been seen in patios and garbage dumps regularly enough that a few local people have started to think of them as a disturbance.
Tofino is famous for its wildlife. If you're looking to find orcas, bears or even eagles then you would have to take a boat tour. You can use speedboats as they are quite comfortable and is operated by local guides who make sure that you witness the miracles like black bears eating trout.
14. Walk through the Botanical Gardens of Tofino.
Tofino Botanical Gardens is an amalgam of nature and artistry. Excellent gardens and Forest are sprinkled with the skill that goes from necessary and little wood carvings to huge and crazy bits of art, some of which stick out and others that mix so impeccably with the surrounding, you may miss out on them if you don't visit. Trails lead through the timberland, along a waterfront mudflat, and through areas of beautifully designed nurseries that have vegetables, herbs, and flowers.
15. Get an Elevated view from a Scenic Flight.
To sightsee the transcending mountains, sharp coastlines, icy glaciers, and great lakes around Tofino, there is no better way than a wonderful scenic flight. Tours on buoy planes or helicopters take as long as 30 minutes to four hours. On a sunny morning, Clayoquot Sound is phenomenal. This tour will give you an excellent view of the area, and contingent upon what your likes are, the pilot can land on an icy glacier, snow-capped lake, or at an underground aquifer where you can take a dive.
Conclusion:
Well, the secret's out. Tofino is an absolutely incredible town located on the Vancouver Island. If you are looking for a breather then take a quick sabbatical from your overwrought life and visit this breathtaking place which takes approximately five hours from Victoria to reach..
As we've just discussed, Tofino has such a significant number of astounding rare places that guests will make some beautiful flashbacks picking which to visit first. Climbers, surfers, and swimmers have a lot to do here, however even the individuals who basically need to see the sights have a plenty of spots to discover. There's additionally some extraordinary spots to eat, drink, and view stunning fine art in Tofino.
A travel during the off time is an amazing technique to spare a couple of dollars while encountering a large group of fascinating things that aren't at their prime during the pinnacle excursion season.